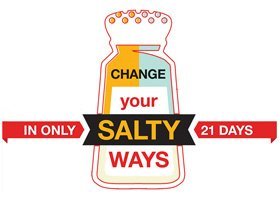 Did you know that 9 out of 10 Americans eat too much sodium? To kick your salt habit, you first have to know how much sodium you are consuming in the first place. For the next three weeks, we'll help you lower your sodium intake and curb your salt habit by choosing wisely, reading nutrition labels, and watching your portions. And, we'll be getting to know the salty six--common foods that may be loaded with excess sodium.
An easy way to keep tabs on how much sodium you eat is by jotting down what you eat - that bagel for breakfast, or the roll served with last night's dinner - along with the accompanying sodium stats. To find sodium stats, take a look at the Nutrition Facts label. The amount of sodium per serving is listed in milligrams, abbreviated "mg." Remember that if you eat two servings of a food, you are getting twice the amount of sodium shown on the label.
Once you know how much sodium you are consuming, it's time to make healthier choices as you shop for food. Next time you are in the grocery story, compare the nutrition labels of similar products and choose the one with the lowest sodium. You can also look for products with the American Heart Association's Heart-Check mark certification to find foods that can be part of an overall healthy dietary pattern. The Heart-Check mark is not necessarily a sign that a product is "low-sodium," but it does mean that the food meets AHA's sodium criteria.
This week our Salty Six focus will be on breads & rolls, cold cuts & cured meats.
Breads and rolls
Some foods that you eat several times a day can add up to more sodium than you think, even though each serving might not seem high in sodium. For example, sodium can add up quickly if it hides in your toast at breakfast, lurks in your sandwich at lunch, and is concealed in your roll at dinner. In addition to checking Nutrition Facts labels for lower-sodium varieties, you can also control your portions. When you cut calories, you usually cut the sodium too.
Cold cuts and cured meats
One, two-ounce serving, or six thin slices, of deli meat can contain as much as half your daily recommended dietary sodium. Even among similar types of foods, the sodium content can vary a lot. Compare the nutrition labels of similar lunch meats and choose the one that is lowest in sodium.
Pretty interesting, huh? Stay tuned for next week, when we talk about pizza and poultry!  To learn more visit:  https://sodiumbreakup.heart.org/change-your-salty-ways-in-21-days.