THE CASE FOR COMBINING COVID-19 TESTING & MONITORING

Protecting your business and your workforce during the COVID-19 pandemic
By Lynda Chin, MD​  Co-Founder & Chief Executive Officer, Apricity Health
---
COVID-19 continues to wreak havoc on public health and the global economy as US case counts are at their highest levels since the pandemic began.  In addition to masking, social distancing and disinfection, businesses must take action to implement a sustainable and cost effective strategy that combines testing and monitoring to protect their workforce.
Maintaining a COVID-19 safe workplace has become an urgent imperative to maintain business continuity.  Particularly in high-risk industries such as manufacturing, retail, travel, and education where employees work in close proximity and transmission of COVID-19 is more likely. 
While the promise of a vaccine in the near future is encouraging, experts predict it will take months to procure and administer enough vaccine to achieve what may be temporary immunity with potential need for re-immunizations.
How can employers protect their workforce and continue their business in the interim?
Managing the Risk of COVID-19 Spread in the Workplace
CDC guidelines recommend the following evidence-based controls that both minimize disruption and safeguard employees from COVID-19 infection:
Prevention efforts including social distancing, mask wearing, and disinfection protocols
Surveillance through symptom monitoring and COVID-19 testing
Effective safeguard against COVID-19 requires both.  Social distancing, masking and disinfection protocols will reduce the chance of transmission from one person to the next, thus preventing spread of the virus within workforce.  Surveillance strategies are intended to identify potentially infected workers so they do not return-to-work and expose others to the virus.
In this post, we discuss how businesses can effectively translate surveillance recommendations into practice.  To begin, let's review the COVID-19 infection time course.
COVID-19 Infection and Diagnosis
The time between exposure to the new Coronavirus that causes COVID-19 infection and presentation of symptoms (i.e. becoming ill) is known as the incubation period. During this period, the virus replicates and builds up in number (e.g. viral load) in the body.  For the COVID-19 Coronavirus, this incubation period is 4-5 days on average. Rare cases can take 14 days or longer.  When the viral load is sufficiently high, the infected person can transmit the virus to others through aerosols (when talking or singing) and droplets (when coughing and sneezing).  They can also become ill and exhibit symptoms. 
Since COVID-19 symptoms are non-specific, the only way to confirm a COVID-19 diagnosis is by taking a test designed to detect the virus in a sample taken from a person (a swab of nasal / nasopharyngeal samples or saliva).  However, accuracy of a diagnostic test is dependent on the viral load.  Therefore, there is high probability of false negatives during incubation period before symptom onset when viral load is low. 
Making detection even more challenging is the fact that not every infected person will feel sick or show symptoms.  According to the World Health Organization (WHO), 80% of COVID-19 infections are mild or asymptomatic, 15% are severe infections, requiring oxygen, and 5% are critical infections, requiring ventilation [1].
That means testing only symptomatic people to confirm COVID-19 infection will miss 80% of infected, asymptomatic individuals.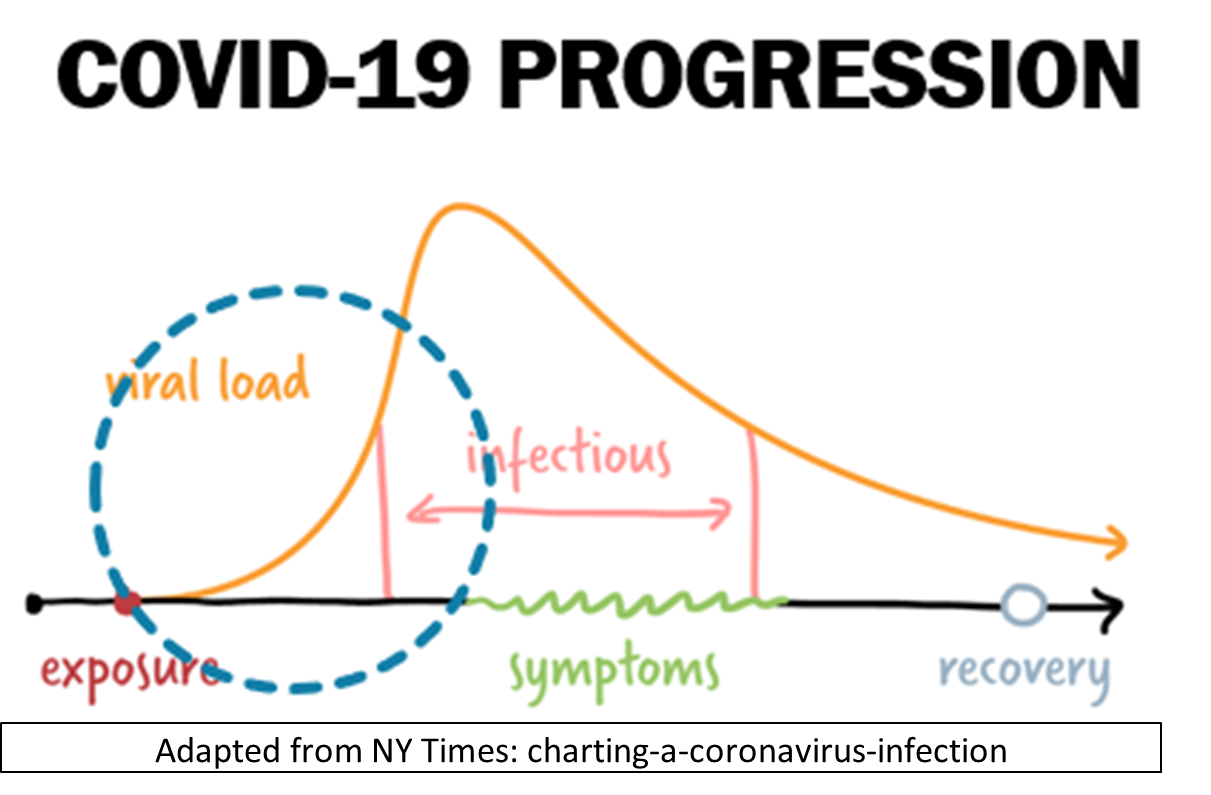 What does this mean for business who wishes to keep potentially infected workers at home while minimizing impact to the business operation and/or productivity?
Given that 80% of infected people are asymptomatic (and can transmit the virus), and the 20% who develop symptoms can transmit the virus for 3 days or more before they even begin to feel sick, what efficient strategy can an employer take to minimize workplace transmission risk?  The answer is to combine monitoring and testing based on data.
Surveillance through symptom monitoring.  Intuitively, symptom monitoring is a first line COVID-19 defense.  If someone is sick with symptoms of COVID-19, that person should stay home and self-isolate per CDC guidelines, so that they do not put co-workers at risk.  However, as explained above, this will catch only 20% of the infected individuals, and will also miss the 3 days or so before they become sick when they are already infectious.
Surveillance through COVID-19 testing.  Regular twice a week or every day testing has been employed to catch the pre-symptomatic or asymptomatic individuals who are potentially infectious.  However, in addition to not guaranteeing catching every infection, this practice is prohibitively expensive, and logistically challenging, to a business operation.
Smart Surveillance: symptom and exposure monitoring to inform COVID-19 testing.  With technologies, we can digitally monitor symptoms and track exposure of a workforce in a non-intrusive and cost-effective way.  Such monitoring data will identify a subset of employees who (1) are sick due to COVID-19 or flu or cold, or (2) have participated in activities that may put them at risk of being exposed to the COVID-19 virus.  Such data will help employers determine who should stay home (e.g. isolation or quarantine per CDC guidelines) until they can be tested at the right time (4-5 days after exposure) to confirm or rule out COVID-19 infection.  Knowing when to test based on exposure timeline is not only economically sensible but also medically sound, as it will minimize false negatives.
Conclusion
To navigate this pandemic while protecting business and its most valuable assets (the workforce), we must empower employers with COVID-19 risk reduction strategies that are cost effective and easy to implement.  Diagnostic testing is necessary, symptom monitoring helps, and exposure tracking is key.  But none by itself will be as effective as a combination of all three. 
Advantages of a Data-Driven Smart Testing Strategy:
By combining testing and monitoring, your business can minimize disruption and cost of operation while protecting health and safety of the workforce:
Helps employers know who and when to test
Symptom and exposure monitoring generate data to help identify who should be tested and when the testing should be done, allowing employers to test only the high-risk subset. 
Removes Uncertainty
Digital monitoring and risk modeling establish a standard for decisions regarding return-to-work and testing based on data.
Prevents Outbreaks
Early identification and isolation of pre-symptomatic and asymptomatic employees minimize risk of spread among co-workers, preventing expensive outbreaks. This is not possible through testing alone.
Lowers disruption to business operations
Testing an identified higher risk subset of the population rather than everyone is less disruptive to overall operations and requires less management and investment.
More effective and affordable
Monitoring + testing is more affordable since fewer and less frequent testing is needed.It is more effective because employers can identify and isolate/quarantine high-risk employees with greater precision at a lower overall cost to the business
COVID-19 Testing Options
PCR Testing and rapid antigen testing are the two testing options available based on FDA emergency authorized use.
PCR testing is the standard of care in clinical settings to measure presence of COVID-19. Results are returned typically within 24-72 hours, which presents challenges to effective mitigation efforts.
Antigen testing is performed via point of care testing devices.  Results for antigen tests are available within fifteen minutes allowing employers to identify and isolate employees with a presumed infection faster than PCR testing – a key factor in minimizing outbreaks.  However, antigen tests have a higher chance of missing an active infection, especially early in disease progression when viral loads are low.
While PCR testing continues to be the gold standard and most accurate way to detect the presence of COVID-19, many public health officials and physicians are calling for increased use of antigen testing as an early detection strategy and to identify asymptomatic spreaders.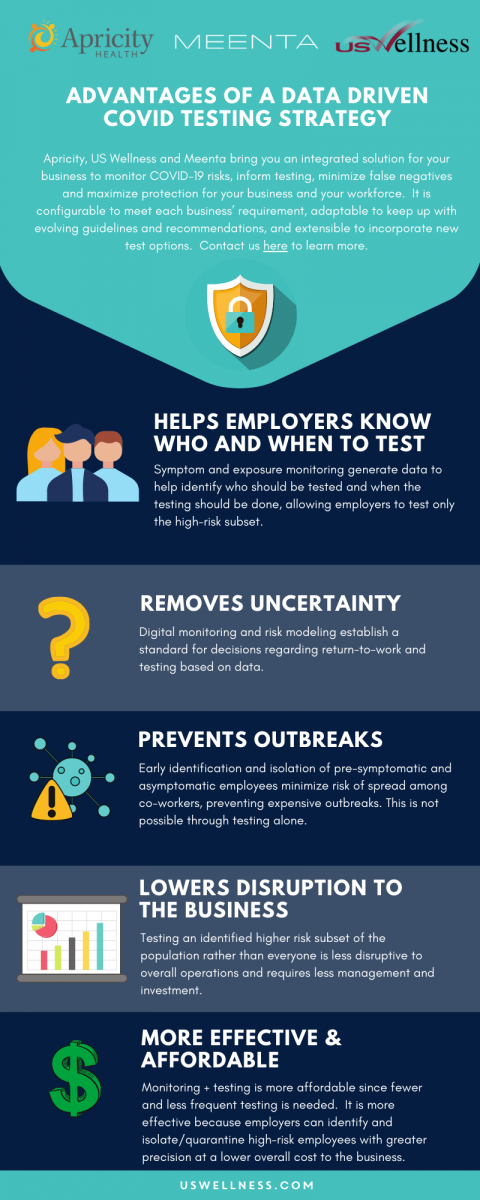 ---
About Lynda Chin, MD​
Co-Founder & Chief Executive Officer of Apricity Health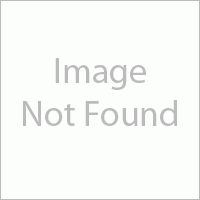 An elected member of the National Academy of Medicine, Dr. Chin is a renowned cancer genomic scientist and a leader in the application of analytical technologies, AI/ML, and big data in medicine. Her groundbreaking work synthesizing terabyte-scale datasets in genomics and oncology research has opened new frontiers in digital medicine.  
As founding chair of the Department of Genomic Medicine at the University of Texas MD Anderson Cancer Center, Dr. Chin launched projects to transform workflows for patient-oriented research harness high-velocity clinical and research data, and democratize cancer care expertise across a network of global partner care centers. As Chief Innovation Officer of the University of Texas System, she forged initiatives to create infrastructure for more equitable access to care for underserved populations. In her work at The Cancer Genome Atlas (TCGA), she was Principal Investigator driving development of the Firehose data pipeline, served on the Scientific Steering Committee of the International Cancer Genome Consortium (ICGC), and is actively involved in conceptualizing the next phase of ICGC, ICGC-ARGO (Accelerating Research on Genomic Oncology). 
Dr. Chin earned a B.A. degree from Brown University and a M.D. degree from Albert Einstein College of Medicine.  She conducted her clinical and scientific training at Columbia Presbyterian Medical Center and Montefiore Medical Center in NY and went on to a productive academic research career at Dana-Farber Cancer Institute, where she was a professor at Harvard Medical School and a senior associate member at the Broad Institute of MIT and Harvard.
Learn more: https://apricity-health.com/lynda-chin-md%e2%80%8b-founder/
---
[1]https://www.who.int/docs/default-source/coronaviruse/situation-reports/20200306-sitrep-46-covid-19.pdf?sfvrsn=96b04adf_4